Couple years ago, Clark and I decided to expand our family by starting Project Plus 1. We didn't tell Jasmine until I was couple months along for fear of losing the baby. I'm a little paranoid about things and the way my luck goes, if I brag or talk about something too early, it gets screwed up. When the time had passed where we were out of the spontaneous deportation stage, we sat Jasmine down and had her read a little book. It was cute and rhymed and I couldn't tell you exactly what it said but I remember Jasmine reading it and her response after. She was so excited! She jumped up and gave me a hug and teared up a bit. It was super adorable really.
Little while later, came the question… "Mom, why isn't the baby here yet???" I tried to pass over the question because, honestly, I suck at these Q&A's. I freaked out a little that I was needing to have a conversation about how babies are made and what goes into babies growing. That is a ton of shit I just didn't want to get in to with a 6 going on 7 year old!!
I had to answer her question though. I couldn't just leave her hanging, mainly because she very persistent and won't stop until she gets an answer. I thought about it for a few minutes and came to the conclusion of using an analogy.
Here is how the conversation went, I think, it has been a few years ago and this was before pregnancy brain kicked and and the loss of sleep on several nights:
Jasmine "Mom why is it taking so long for my sister to get here?"
**She was very insistent that I was having a girl and I'm pretty sure if I had a boy, she would have been super pissed at first!
Me: "Uuhh, well, it just takes a long time"
Jasmine: "Why?"
Me: "Uummm….."
Jasmine: "I'm just so excited and want her here now. I want to feed her."
Me: "You won't be able to feed the baby like you do your baby dolls." Jasmine is just looking and me with such an inquisitive face, I couldn't just pass over her question. "Well, babies take a long time to grow. You know how sometimes it takes you a long time to poop? Babies are very similar, they don't just grow over night. They have to brew like poops and this is why it takes so long for them to pop out."
Jasmine totally knew what I was meaning because she was all like "I get it" and now that she had an answer, she went on her marry little way playing with her toys.
I have been looked at like I'm an idiot, been told that I'm gonna 'screw up your kid' when I've explained this story to people. But you know what, I figure if this is the worst thing that she hears, which she's in 3rd grade now and this story has nothing on what the kids talk about in school, I'm doing pretty good!!
Next time I have someone who judges me, I'm going to tell them I'm inventive and they are totally welcomed to use it! You know they are using it anyways, now they don't have to feel guilty about it. I'm a genius inside and I'm just helping the world, one analogy at a time.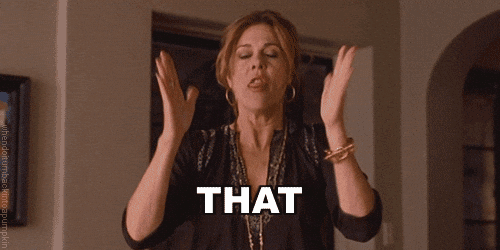 YOU'RE WELCOME WORLD